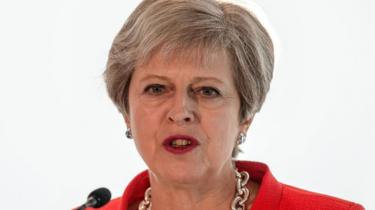 Theresa May has insisted she will not be forced into watering down her Brexit plan during negotiations with the EU.
Writing in the Sunday Telegraph, the prime minister says she will "not be pushed" into compromises on her Chequers agreement that are not in the "national interest".
But Mrs May also warns she will not "give in" to those calling for a second referendum on the withdrawal agreement.
She says it would be a "gross betrayal of our democracy and… trust".
The Chequers agreement would see the UK agreeing a "common rulebook" with the EU for trading in goods, in an attempt to maintain friction-less trade at the border.
But critics say it will leave the UK tied to EU rules and prevent Britain from striking its own trade deals in years to come.
The People's Vote, a cross-party group including some MPs, is calling for a public vote on the final Brexit deal.
The UK is on course to leave the EU on 29 March but has yet to agree how its final relationship with the bloc will work. The EU has suggested that November is the latest a deal could be finalised.
The government had previously ruled out another referendum.
The prime minister writes that the coming months are "critical in shaping the future of our country", but that she is "clear" about her mission in fulfilling "the democratic decision of the British people".
She adds that following the Chequers agreement in July – which led to the resignation of two cabinet ministers – "real progress" has been made in Brexit negotiations.
While there is more negotiating to be done, Mrs May writes: "We want to leave with a good deal and we are confident we can reach one."
The government has been preparing for a no-deal scenario, even though this would create "real challenges for both the UK and the EU" in some sectors, she says.
But the PM adds: "We would get through it and go on to thrive."
She goes on to insist in her article that her government will not back another vote.
"In the summer of 2016, millions came out to have their say," she writes.
"In many cases for the first time in decades, they trusted that their vote would count; that after years of feeling ignored by politics, their voices would be heard.
"To ask the question all over again would be a gross betrayal of our democracy – and a betrayal of that trust."