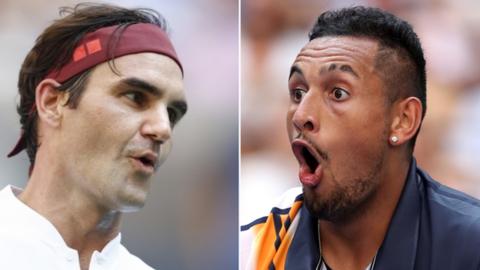 2018 US Open
Venue: Flushing Meadows, New York Dates: 27 August-9 September Coverage: Live radio coverage on BBC Radio 5 live sports extra; live text commentaries on the BBC Sport website
Roger Federer says a stretching forehand winner around the net post that left opponent Nick Kyrgios open-mouthed in disbelief ranks as one of the greatest shots of his career.
The 37-year-old Swiss somehow reached a drop-shot from Kyrgios to flick it past the incredulous Australian on his way to a three-set win in the US Open third round.
The 20-time Grand Slam champion was already in control, leading two sets to love, when he produced the shot on advantage point for Kyrgios at 3-3.
"I definitely think it was a special one, no doubt about it," said the second seed, who won 6-4 6-1 7-5.
'In practice you'd run into a fence'
Federer showed no signs of his advancing years to produce a spectacular moment which left almost everyone inside Arthur Ashe Stadium on their feet in amazement and caused a stir on social media.
Although Kyrgios went on to hold serve in the game, Federer broke four games later to help seal his place in the last 16 at Flushing Meadows.
"You don't get an opportunity to hit around the net post very often," Federer said.
"You can't train for that.
"The net is out further and the court is more narrow, so for a shot like this to happen in a practice, you will be running into a fence and you will hit it into the net."
"These shots can only really happen on a big court."
Federer ranked the shot alongside his smash against Andy Roddick in Basel in 2002, tweener [hitting the ball between the legs while facing backwards down the court] against Novak Djokovic at the US Open in 2009, and lob against Andre Agassi in Miami in 2005.
It was almost unreal – Kyrgios
Kyrgios was already scrapping to stay in the match when Federer produced a moment of magic.
The 23-year-old Australian mouthed 'Oh my god!" before trying to congratulate Federer, who allowed himself a sly smile, from across the net.
"It was almost unreal," said Kyrgios, who is no stranger to trick shots of his own.
"Almost got to the point where I wanted him to start making shots like that, and I finally got it.
"If anyone else is doing those shots against me, I'm probably not too happy. But it's Roger."
'Are you even from this planet?' Social reaction to that shot…
Taryn Bray: MOTION TO NEVER LET ROGER FEDERER RETIRE!
Gerard Ye: How?! Goat or God Roger Federer?
Rob Koenig: That was NAUGHTY from Roger Federer!
Scarface: Out of this world Roger Federer…
Crazyfedfan: You are unreal Roger Federer.
Matt Kreisher: Roger Federer just got one of the greatest shots I've ever seen
OurnumberoneRF: Touch of Roger Federer, I mean GENIUS.
Paulina Estrada: OH MY GOD ROGER FEDERER ARE YOU EVEN FROM THIS PLANET?
Oliver Brown: Roger Federer with one of the shots of this or any other year. Just preposterous.
James Stevenson: A mere mortal doesn't get that. Roger Federer is immortal. No doubt.