The US has threatened sanctions against the International Criminal Court if it goes ahead with prosecutions against Americans.
The court is currently considering prosecuting US servicemen over alleged detainee abuse in Afghanistan.
National Security Advisor John Bolton said the US would do everything "to protect our citizens".
The US is among dozens of nations not to have joined the court, founded in 2002.
The court investigates and brings to justice people responsible for genocide, crimes against humanity, and war crimes, intervening when national authorities cannot or will not prosecute.
In a speech in Washington, Mr Bolton said: "If the court comes after us, we will not sit quietly."
Judges and prosecutors with the International Criminal Court (ICC) would be barred from entering the US and their funds in the US would be sanctioned.
"We will prosecute them in the US criminal system. We will do the same for any company or state that assists an ICC investigation of Americans."
More "binding, bilateral agreements" would be signed to stop countries submitting US citizens to the court's jurisdiction.
Giving his reasons for opposing the court, Mr Bolton cited the threat to "American sovereignty and US national security".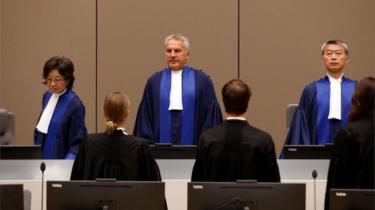 He said the ICC lacked checks and balances, claimed "jurisdiction over crimes that have disputed and ambiguous definitions" and failed to "deter and punish atrocity crimes".
It was, he said, "superfluous" as "domestic judicial systems already hold American citizens to the highest legal and ethical standards".
Mr Bolton also criticised Palestinian moves to bring Israel before the ICC over allegations of human rights abuses in Gaza and the occupied West Bank – a move dismissed by Israel as politicised.