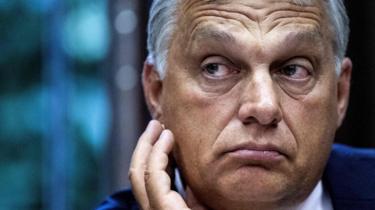 The European Parliament is to discuss whether to launch disciplinary proceedings against Hungary.
MEPs will debate whether the right-wing government poses a serious risk to the EU's values due to its policies on issues like migrants.
It comes just months after the European Commission took the step of launching similar proceedings against Poland.
However, this is the first time the parliament has tried to use the power, known as Article 7.
Hungarian Prime Minister Viktor Orban is expected to fight the claims personally in the chamber, brandishing a dossier of counter-arguments more than 100 pages long.
Mr Orban and his Fidesz party say many of the accusations against them on issues over rule of law were solved long ago.
The BBC's Nick Thorpe in Hungary says the country's ministers, along with its vocal pro-government media, speak of a witch hunt against Fidesz, for standing up for national sovereignty against what they call the liberal elite.
Eurosceptic Mr Orban was re-elected earlier this year after campaigning on an anti-immigration platform, with Fidesz winning two-thirds of parliamentary seats.
But while he has support at home, critics in the European Parliament say his policies are evidence he does not respect the values of the EU.
A committee of MEPs points to the Hungarian government's approach to migration – including a new law which criminalises lawyers and activists who help asylum seekers – as well as media, the courts and universities as proof.
However, in order for any sort of disciplinary proceedings to go ahead, it needs the backing of two-thirds of MEPs – and it is not clear which way the vote, due to take place on Wednesday, will fall.
If MEPs do decide to support the process, which could end up with Hungary being monitored by Brussels, it may be a very slow process.
The European Commission took the unprecedented step against Poland in December 2017, giving it three months to address concerns that its judicial reforms threatened the rule of law.
However, there is still very little sign that a conclusion is coming, BBC Brussels reporter Adam Fleming says.