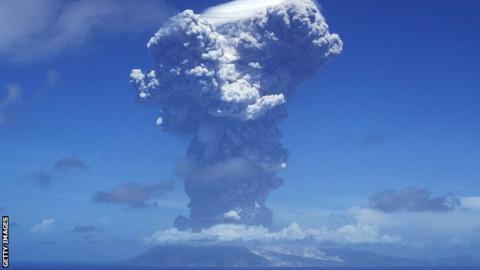 The tiny Caribbean island of Montserrat – population a little over 5,000 – is a world away from what most people think of when it comes to international football.
Ranked 204th of 206 Fifa nations, it is an island still rebuilding from a huge volcanic eruption 23 years ago that left vast swathes of its land uninhabitable and triggered a mass exodus.
Until last week Montserrat had not played an international game for three years – since a World Cup qualifier in 2015 – but the advent of the Concacaf Nations League has changed all that.
With the bulk of the Montserrat squad of semi-professional players based overseas – primarily in the UK – playing friendlies is a luxury not open to them.
But competitive fixtures are fulfilled, and Montserrat impressed on their return to action.
Their opening Nations League qualifier ended in a 2-1 loss to El Salvador – a country ranked 72nd in the world and with a population of around six million – and even then it took a last-minute winner to break Montserrat.
For comparison, other results in the first round of qualifying saw Curacao beat Grenada 10-0, Cuba beat the Turks and Caicos Islands 11-0, and Haiti stick 13 unanswered goals past Sint Maarten.
"It's a bit of a fairytale story, a David and Goliath thing," says Montserrat coach Willie Donachie, the former Manchester City, Oldham and Scotland defender who took charge of the national side earlier this year.
Speaking to the BBC's World Football Show, the 66-year-old adds: "We almost got a result, and then with about three seconds to go, they got their winner which was very disappointing, but it was a great performance by our players."
Montserrat has a relatively new national team, having only played their first senior match in May 1991 – but the growth of the sport in the country was curtailed following a devastating volcanic eruption in 1995 that destroyed the capital, Plymouth, and left the south side of the island uninhabitable.
The island's population before the volcano was around 13,000, but the devastation meant thousands were forced to flee – and as Montserrat is a British Overseas Territory,mostly they went to the UK.
And it is the descendants of those people that largely comprise the current Montserrat squad.
"The players are all good people, they all really care about their country," says Donachie. "There are no big egos. They're very together like a big family, so it's a great job for me.
"It's still a beautiful island, beautiful place, beautiful people, but all the players are based in England, mainly the London area."
One of those players is midfielder Dean Mason, who was born in Islington in north London, but qualifies for Montserrat through his paternal grandmother.
"She came over to the UK after the volcano eruption," Mason says. "I felt more of a connection [with her] when I actually went there; I can see the relation with my grandmother. It's a really nice feeling to play for my country and to make her proud.
"When you meet the locals, they explain to you what they went through and the ups and downs, because they are still rebuilding."
But Mason admits the team's three-year break from playing has not been easy to deal with.
"It is a bit of a funny one where you don't play for three years or so and then after three years you just randomly get the call to play again," he says.
"I just hope it continues and I hope there is a lot of improvement and that we can move forward as a squad and do great things because we do have a great, great side.
"But if you don't play regular football and meet up regularly, then it's hard to progress as a team."
For now, at least, the schedule for Montserrat is a busy one, with qualifiers against Belize, Aruba and the Cayman Islands to come before March.
"On paper, we shouldn't win a game," adds Donachie. "We're the lowest-ranked side in the world almost.
"But as I said, with the team spirit and competitiveness, they will have a chance.
"People think of [the Nations League] as a Mickey Mouse thing, but over there it's massive, so for Montserratians to play, possibly, against the likes of the USA, Canada and so on, it's just an unbelievable opportunity.
"It's great for the countries and smaller islands where there are lots of really good players. They're just football crazy.
"It's a great thing done by Fifa after all the corruption. They have tried to spread money around all the smaller countries, so it's a great opportunity for all the young players in the Caribbean – there's lots of very good players there."
And what of Donachie? How does he view his latest job in football after a career that took in two World Cups with Scotland and a variety of coaching roles in the Premier League and overseas?
"It's a good job, a great job for me," he says.
"It's a fantastic place. It's one of the nicest places in the world. You walk down the street and someone will stop and say 'Do you want a lift?'
"The people are very good and they are very proud of their country. They are trying to rebuild it after the volcano. It's a big, big job."