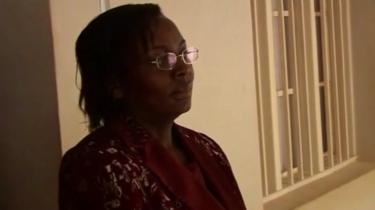 More than 2,000 prisoners have been given a presidential pardon in Rwanda including a top opposition figure.
Victoire Ingabire has been serving a 15-year prison sentence for threatening state security and "belittling" the 1994 genocide.
She has been a leading critic of President Paul Kagame and says her trial was politically motivated.
Mr Kagame has won praise for reforming Rwanda's economy but has also been accused of human rights abuses.
The release of Ms Ingabire and 2,140 other convicts was announced by the government following a cabinet meeting.
A statement said that Mr Kagame had exercised mercy, under his prerogative as president.
Also freed was the singer Kizito Mihigo, who was jailed for 10 years in 2015 for plotting to kill President Kagame.
Leaving jail, Ms Ingabire thanked the president, saying "this is the beginning of the opening of political space in Rwanda", AFP news agency reported.
But Justice Minister Johnston Businge sought to play down the significance of Ms Ingabire's release.
"There is nothing political about her release – there is nothing political about her imprisonment," he told Reuters.
Who is Victoire Ingabire?
Ms Ingabire returned from exile in the Netherlands in 2010 to take part in presidential elections.
She was arrested and barred from standing soon after, and has been in jail ever since.
Ms Ingabire, a member of the Hutu ethnic group, had questioned why Rwanda's official memorial to the 1994 genocide did not include any Hutus.
Most of the 800,000 people killed were ethnic Tutsis but Hutu moderates were also slaughtered by the Hutu extremists.
Mr Kagame's Tutsi-dominated Rwandan Patriotic Front put an end to the genocide.