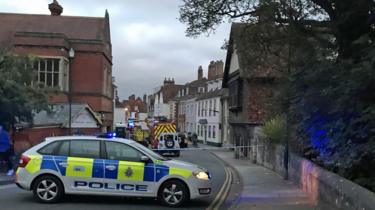 Police have sealed off a restaurant in Salisbury and the surrounding area after two people were taken ill.
The ambulance service called officers to Prezzo, in High Street, at 18:45 BST following "a medical incident" involving a man and a woman.
Wiltshire Police said the cordon was a precaution while it established "what has led them to fall ill".
The ambulance service said the patients were conscious at the last update and were being treated at the scene.
South Western Ambulance Service said it was first called at 17:38 BST.
A witness reported seeing a person in a hazardous material suit in attendance.
Sam Proudfoot, 16, said: "There's a man in a full white body suit with a mask to his mouth going in and out of the back of the ambulance and the restaurant."