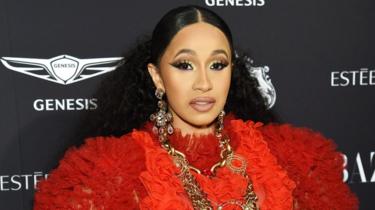 Cardi B has denied posting a transphobic meme on Facebook, suggesting it was a "former team member".
A cartoon, which seemingly shows a man walking through a door, was shared on her verified page.
The caption contained transphobic slurs and was followed by laughing emojis.
She later tweeted: "It's come to my attention there have been offensive posts made on what used to be my Facebook page."
"For the past year and a half a FORMER team member has been the only one with access to the account."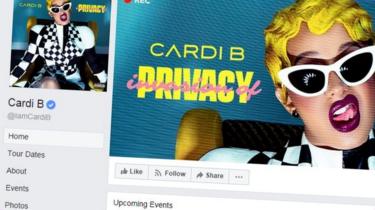 The Facebook post, which has now been deleted, was still live when Cardi B made the claims on Twitter.
The account appears to be fairly active, with posts about upcoming shows and recent releases being made in the last week.
Cardi B apologised for using the same slur earlier this year, claiming she didn't know it was offensive.
"Like I didn't know that was a word that you cannot use, especially because my trans friends use it and growing up, my parents never told me that that was a bad word," she said in a live Twitter video.
"You know, there's bad words that your parents teach you that you're not supposed to say. Nobody taught us that. Nobody taught us that in our school."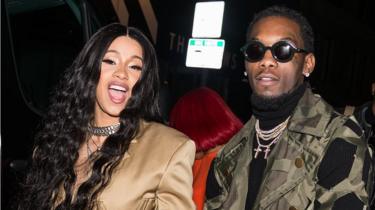 During the same stream, she defended her husband Offset's homophobic lyrics.
The Migos rapper said: "I do not vibe with queers, I got the heart of a bear, I bust 'em down by the pair," in his 2017 collaboration with YFN Lucci Boss Life.
He apologised for the lyrics, and Cardi B defended him: "I'm not gonna let somebody call him homophobic when I know that he's not.
"I'm saying this because I see him around gays, and he treats them with the same respect he treats everybody. He never acts uncomfortable, and he just don't care."