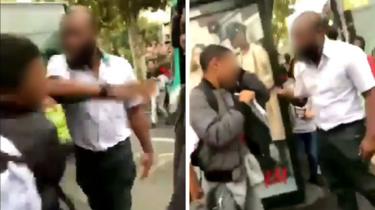 A viral video of a Paris bus driver slapping a 12-year-old boy for telling him to "shut up" has divided France.
The bus driver, who faces disciplinary action, has garnered support from some 300,000 people in a petition.
The boy had run out onto the road, forcing the driver to brake hard. When he told the boy to pay attention, he was insulted and reacted, the local transport authority said.
The boy's mother has now reportedly filed a complaint against the driver.
The incident, which took place on 13 September, was witnessed by dozens in front of the town hall in Arcueil, a southern suburb of the French capital.
What happened?
The boy told police he was running across the street to catch his bus after school when he heard a horn and an insult he was not sure was hurled at him, but attributed to the bus driver.
Le Parisien reported he returned the insult without thinking: "Shut up, go on, move on."
The video, which begins at this point, shows teenagers laughing before the bus driver gets out of his vehicle and slaps the boy across the face. The boy stands in shock as those around him cry out.
The man – a father of two teens – then asks him how old he is, and says "and how old am I?" before turning back.
The video, which was initially posted on instant messaging platform Snapchat, has been viewed almost 1.2 million times.
What's the reaction?
The Paris transport authority RATP has launched a disciplinary procedure against the driver. It strongly condemned his violent action, which it said was contrary to the principles and values of a state-owned public transport company.
The bus driver has admitted to them that he reacted emotionally and indicated that he regretted his actions, RATP said.
Colleagues however have launched a petition in support of the driver, which has collected some 300,000 signatures within a week.
The local mayor told Le Parisien that children often run between sides of the street in question, which is near the Dulcie-September College.
"Some put themselves in danger," he said, conceding however that "the driver's reaction was neither proportionate nor appropriate. It's a child."
France's Transport Minister Elisabeth Borne echoed this sentiment, saying it was "not normal to slap a youngster".
However social media reaction has been strongly divided with many feeling the violence was cowardly, and others supporting the driver's reaction to what they term as "disrespect" and "bad behaviour" on the part of the boy.