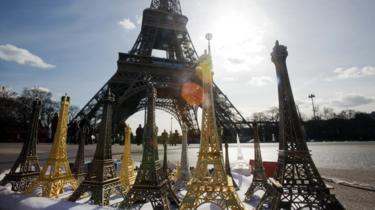 French police have seized 20 tonnes of miniature Eiffel Towers in an operation to dismantle an extensive network selling souvenirs in the capital Paris.
A joint probe with French immigration officials resulted in raids on Chinese wholesalers suspected of importing and supplying the goods to illegal vendors.
Nine people were arrested, media said.
The small metal replicas are sold for as little as five for one euro at tourist hotspots like the Louvre museum and outside the real Eiffel Tower.
More than 1,000 boxes containing the pointy keepsakes were found at two depots and three shops in the Paris region on Monday evening and Tuesday morning, local reports said.
In the past, authorities have struggled to crack down on the counterfeit souvenirs, often illegally sold to tourists by undocumented migrants who run at the sight of police.