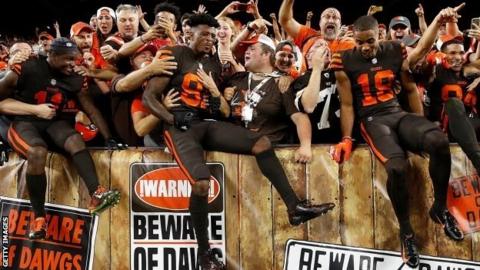 Barack Obama was president of the United States when the Cleveland Browns last won a game. No wonder the end of their run was celebrated in style.
After 635 days and 19 matches without a victory, the Browns finally triumphed – coming from 14 points behind to beat the New York Jets 21-17.
And delighted fans helped themselves to free beer after the long-awaited win.
Rookie quarterback Baker Mayfield, the top overall pick in the NFL entry draft, helped inspire the comeback.
Mayfield came into the game late in the first half to replace a concussed Tyrod Taylor and completed 17 passes for 201 yards as the Browns fought back from 14-0 down.
"I feel good. We finally put the pieces together," said Mayfield.
"We had a couple things the last few weeks that cost us some games but you got to fight through the adversity."
The Browns, who drew their opening match of the season before a narrow defeat in their second game, got two goal-line touchdowns from running back Carlos Hyde.
Fans in at least 10 bars across Ohio were treated to free beers after the famous success at Cleveland's FirstEnergy Stadium.
It was part of a promotion where fridges, each containing at least 200 cans of Bud Light, would be unlocked by a master control should the Browns win.
The Browns in numbers
Their last victory came on Christmas Eve 2016 – a 20-17 win over the San Diego Chargers
That triumph 21 months ago ended a 17-game winless run
Cleveland lost all 16 matches last season
Victory over the New York Jets was just their second win in 38 games
The Browns have not won a championship since 1964 and have never been to the Super Bowl