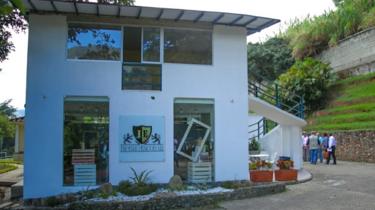 Colombian police have shut down a small museum dedicated to the life of drug lord Pablo Escobar in Medellín.
Officers staged a raid to shut down the site, owned by Escobar's brother, because it did not have a tourism licence with which to operate.
At the height of his career, Escobar's cartel supplied an estimated 80% of the cocaine smuggled into the United States.
He was killed in a shoot-out with police in Medellín in 1993.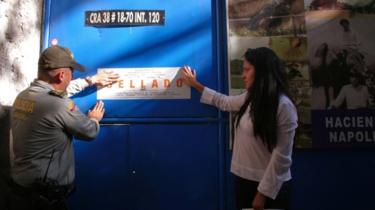 Foreign tourists were visiting when the police staged the raid on Wednesday.
Some of the items displayed in the museum – which is part of so-called narco tours in the city – include some of Escobar's cars and motorbikes.
"There is a temporary suspension of the activity of this business in Medellín, dedicated to promoting the life of one of the saddest bandits, of those who have done the most damage to this city," Andrés Tobón, Medellín's security chief, told local newspaper El Colombiano.
"As if that were not enough, this establishment also did not comply with the regulations."
Other stops on the "narco tours" include the spot where Escobar is buried and a luxury home he owned in the city.
The city's mayor has previously criticised narco tours as glorifying the lives of drug traffickers, including that of Escobar.
Since the 1990s, successive Medellín mayors have worked hard to break the power of the cartels and paramilitary gangs with social and education programmes.
Although the violence is much reduced, there are still small drug gangs and drug traffickers operating in the city.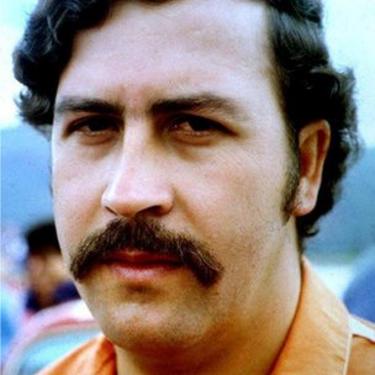 Pablo Escobar 1949-1993
Escobar's drug wealth catapulted him into the Forbes list of global billionaires for seven years, ending with his 1993 death
The same year, he was responsible for the bombing of Avianca Flight 203, killing 107 people
In all, Escobar is thought to be responsible for some 4,000 deaths
His gang targeted politicians, the police and journalists
After he was arrested in 1991, Escobar was housed in a prison of his own design, nicknamed the Cathedral, where he continued to oversee the Medellin Cartel