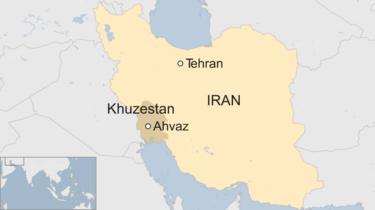 Gunmen have opened fire on an Iranian military parade in the south-western city of Ahvaz, killing several people, including civilians, and injuring at least 20, state media say.
The attackers shot from a park near the parade and were wearing military uniforms, reports say.
State media say Islamist militants are thought to be behind the attack.
Iran is marking the anniversary of the beginning of the 1980-88 war with Iraq with several parades across the nation.
Fars news agency said the attack started at 09:00 local time (06:30 BST) and appeared to involve four gunmen.
The attackers fired at civilians and attempted to attack military officials on the podium, Fars reports.
Two of the gunmen were killed by security forces, while the other two were arrested, the local deputy governor, Ali Hosein Hoseinzadeh, said.
Up to nine members of the military were killed, and a child is among those wounded, reports say.
Pictures from the scene show wounded soldiers being taken to safety.
No group has said it carried out the attack, which lasted for about 10 minutes.
State media and officials have blamed Sunni militants or Arab nationalists.
Ahvaz was one of the cities that saw large anti-government protests over falling living standards late last year.