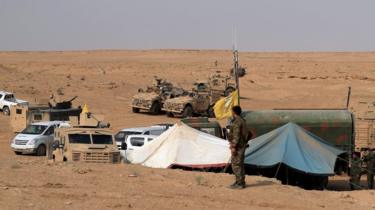 A British man who says he is a pharmacist from Birmingham has been detained in Syria on suspicion of being a member of the Islamic State group.
Kurdish forces captured Anwar Miah in the eastern province of Deir al-Zour a month ago.
A video of his capture has surfaced on Twitter and shows Mr Miah saying he has lived in Syria for nearly four years.
It is believed he is being held in a prison in northern Syria, guarded by US special forces.
Western intelligence agencies are questioning him, the BBC's Middle East correspondent Quentin Sommerville said.
In the video, Mr Miah, who is blindfolded in the back of a pick-up truck, says he has been working as a medic in IS territory for the last four years.
Asked if he was with Daesh – another name for IS, he replies: "I'm a doctor. I'm a qualified pharmacist from the UK. I studied medicine and pharmacy.
"I came here to work with the general people and to help people. I've been working in the hospitals since I came," he says.
Pressed about whether he was working for IS, he adds: "I work in the general hospitals. They were controlled by Daesh, I can't do anything about that. But all my work was with the public."
At least three other British men who are accused of being members of IS are currently in Kurdish and US custody in Syria.
They include two Londoners, Shafi El-Sheikh and Alexanda Kotey, who are alleged to be members of the notorious group dubbed the The Beatles. The pair were captured in January.
US officials believe the cell they belonged to beheaded more than 27 Western hostages and tortured many more.