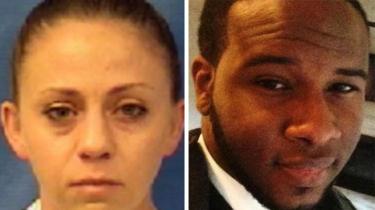 A Dallas police officer who fatally shot a black man inside his own flat, saying she confused it for her own home, has been fired.
Amber Guyger "engaged in adverse conduct when she was arrested for manslaughter", police said in a press release on Monday.
Botham Shem Jean died on 6 September, after Ms Guyger entered his home in the building where they both lived.
Ms Guyger is currently out on bail, pending a criminal trial.
Court records show Ms Guyger had just finished a 15-hour shift when she parked in the wrong garage before making what was apparently a tragic error.
Dallas Police Chief U Renee Hall terminated her employment during a hearing on Monday, police said, adding that she has the right to appeal.
She had been on administrative leave, as activists called for her immediate firing.
Police had been criticised for not immediately identifying the officer that killed Jean, who the mayor called a "model citizen".
After revealing that they had found marijuana at Jean's home, a lawyer for his family accused the police force of trying to "smear" his reputation.
Jean, 26, grew up on the Caribbean island of St Lucia and went on to work for the professional services giant PricewaterhouseCoopers.