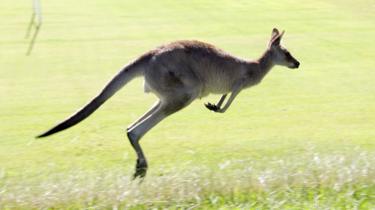 Western Australia police are investigating footage of two kangaroos being "tortured and killed".
The animals were reportedly stabbed and punched with knuckledusters in two attacks filmed in May and June.
Local media say police refuse to release the footage, deeming it too graphic.
Authorities released images of three men on Wednesday wanted in connection with the case. A fourth man has already been identified.
Local newspaper The Western Australian reports he is helping the police with the investigation, and has not been charged.
The paper quotes detectives working on the case as saying it was "one of the most horrific and sickening instances of animal cruelty they had ever seen".
The videos were filmed on mobile phones on 19 May and 16 June.
According to Newsweek, the first video shows the men punching, stabbing and burning a kangaroo, before shooting it in the head at close range with a rifle.
The second reportedly shows one of the men repeatedly stabbing another kangaroo as it tries to escape, as the others yell encouragement.
The men then reportedly spat on the dead kangaroos after their deaths.
The men are pictured grinning and wearing knuckledusters in the release.
Police are appealing for information on the three men's identities, or on the incidents of animal cruelty themselves.
The reports follow days after police in Victoria arrested a man for a video that allegedly showed him deliberately driving his car into several emus.
The footage caused outrage after surfacing online and prompted a nationwide effort to find the perpetrator.