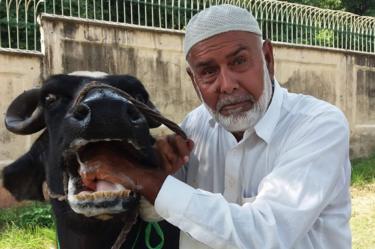 Imran Khan's government has continued its efforts to refill the Pakistani government's coffers – by selling off eight highly-prized buffaloes.
The animals had been kept at Prime Minister House, where they reportedly provided milk for Nawaz Sharif, Mr Khan's predecessor, and his family.
However, Mr Khan decided they should be sold off as part of the government's so-called "austerity auctions".
The new prime minister was elected on a platform of anti-corruption reforms.
He has since made much of his so-called austerity drive – although critics say it has been more style than substance so far.
The former cricketer was mocked in August when it emerged he was using a helicopter to travel to work – a journey of some 9.3 miles (15km), as the crow flies.
'Clarified butter'
The buffalo auction, which raised $19,000 (£14,500) in total, was the second sale of government assets in the last 10 days. The first, which included bullet-proof jeeps, brought in $600,000.
The animals were of particular interest to supporters of Mr Sharif, who was removed from office amid allegations of corruption.
Hasan Latif – who paid $2,500 for one of the animals – told BBC Urdu that he already owns a commercial dairy farm, but was keen to buy one of these buffaloes due to their famous connection.
"I have more than 100 buffaloes, but I wanted to get one which was used by my leader," he explained. "This is to honour him, and if I get an opportunity I will try and give it to him as a gift."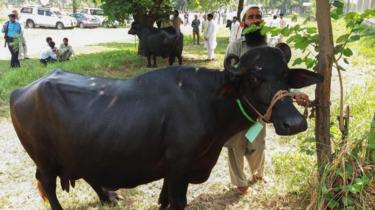 Another of the animals, which are renowned for their pure, white milk, fetched $3,100.
"The auction went beyond our expectations. We are really happy with its success," a staffer at the PM House told BBC Urdu.
Some would-be customers were disgruntled at the bidding prices, however. A buyer from Rawalpindi raised doubts over the process.
"These buffaloes are available in market for half the price than what they are bidding for here," he said. "They are too expensive and it looks like some of the buyers are not genuine."
Another suggested a nine-month-old calf must be capable of producing "clarified butter" as well as milk, as the price soared to $2,500.
But the high prices are good news for the Pakistani government, which is facing grave economic challenges as it struggles to keep the economy afloat.
As well as selling off luxury cars, its eye-catching proposals include turning state-owned buildings into universities, dispensing with VIP security protocol, and cutting air conditioning in government offices.