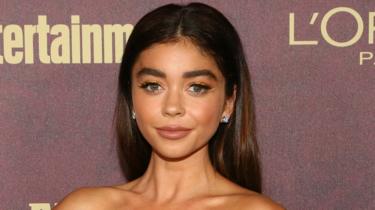 Modern Family actress Sarah Hyland and Cougar Town's Busy Philipps have revealed they were sexually assaulted in high school.
They are among the women who decided to speak out in the wake of Christine Blasey Ford's testimony against US politician Brett Kavanaugh on Thursday.
That Senate hearing spurred others to reveal details of their own ordeals.
"I hoped it was a dream but my ripped tights in the morning proved otherwise," Hyland wrote on Twitter.
"I thought no-one would believe me. I didn't want to be called dramatic," she continued, using the #WhyIDidntReport hashtag.
In her testimony, Dr Blasey Ford accused Mr Kavanaugh, who has been nominated for a vacant post on the US Supreme Court by Donald Trump, of trying to force himself on her at a party in the 1980s.
He angrily denied he had assaulted her or anyone.
In a message about her own experience, Busy Philipps, who has also starred in Dawson's Creek and ER, revealed on Instagram that she was raped when she was 14.
She shared a school photo and wrote: "This is me at 14. The age I was raped. It's taken me 25 years to say those words.
"I'm scared to post this. I can't imagine what Dr Ford is feeling right now."
Insatiable's Alyssa Milano was spotted at the hearing as a guest of California Senator Dianne Feinstein and was tweeting live from the Senate floor.
Standing with politician Carolyn Maloney, she told CNN: "We're to support her and show her solidarity," referring to Dr Ford.
"This can't be an easy day for her."
Model and actress Cara Delevingne was among the others writing on Thursday using #WhyIDidntReport: "I felt ashamed of what happened and didn't want to publicly ruin someone's life, even though they privately ruined mine."
Tony Award-winning actress Karen Olivo added her voice: "He was 23 and rich. I was 15 and poor. He was white. I was brown. His father was a well-known lawyer. My father was an artist. #WhyIDidntReport"