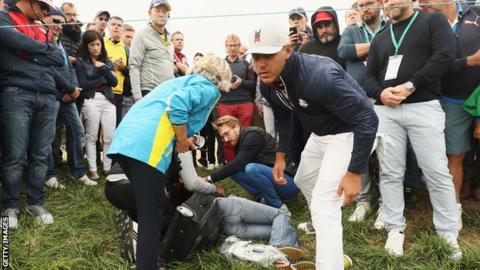 A spectator was hit in the face by a wayward tee shot from Brooks Koepka on the first day of the Ryder Cup.
American Koepka's drive on the par-four sixth hole veered into the gallery on the left of the green and appeared to strike the woman in the right eye.
Three-time major winner Koepka gave a signed glove to the woman, who received immediate medical attention before being taken to hospital.
"It looked like it hurt," said the 28-year-old.
"She was bleeding. It looked like it hit her right in the eye, so hopefully there is no loss of vision or anything like that.
"It's not a good feeling, I just wanted to get out of there."
A European Tour spokesman confirmed the woman's injuries were not serious.
"It's hard to control a golf ball, especially for 300 yards, and a lot of times the fans are close to the fairway," Koepka added.
"You can yell 'fore' but it doesn't matter from 300 yards, you can't hear it."