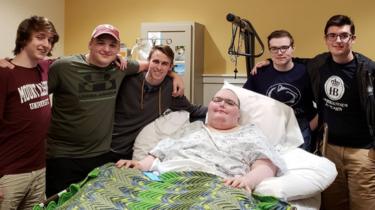 When a member of their friendship group was in hospital receiving treatment for cancer, six men who have been friends for years came together.
However, this was the first time they had been in same room, or even the same state.
They met through online gaming and have forged a friendship that has tied them together.
The image of the friends gathered around Joe's hospital bed in New Jersey has moved many to share similar stories of the meaningful relationships that have begun online.
David Miller, from New Brunswick, Canada, shared the story on Reddit. The 19-year-old said he had met Joe and the others online about five years ago.
"We played pretty much everything," he told the BBC.
"We played all the time. Even if we weren't playing games we would be just hanging out talking about anything."
But this summer the friends discovered Joe, 23, had been diagnosed with Ewing's sarcoma. The prognosis was terminal and he now lives in a hospice centre.
"We always had an idea we would eventually meet up, but after finding out that our time was limited we knew we had to do it sooner rather than later," David said.
"We all knew we had to do it."
Though the friends had never met in real life before, there was no awkwardness.
"We just hung out like we had done it 1,000 times before," David said.
"It meant everything, especially to Joe. There were definitely tears.
"It was a dream we have had since the beginning and it's amazing that it came true.
"We plan on having maybe an annual meet-up from now on," he added.
The heart-warming image was described as "absolutely amazing" and "so special" by Reddit users. It has been upvoted more than 148,000 times on the site.
It also moved many to share their own examples of the powerful friendships they have forged online.
Michael Thomas Sullivan, from Louisiana, said he was "filled with joy" on seeing the photo on Reddit because it reminded him of his first meeting with a long-time friend, Dillon.
Michael told the BBC he started speaking to Dillon online 12 years ago and their relationship is "extremely important" to him.
"[Dillon] has been through a lot with me and we've watched each other grow."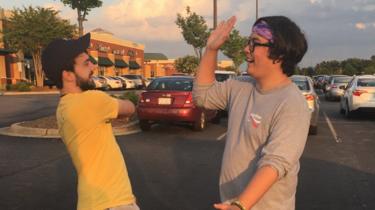 He says that he is sorry that Joe's group met under "really sad circumstances", but was moved by the way "they were there for their friend".