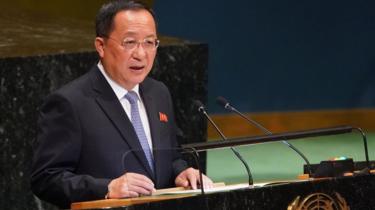 North Korea's foreign minister has warned that there is "no way" his country will disarm while the US continues to enforce sanctions.
Ri Yong-ho told the UN General Assembly the sanctions were deepening North Korean mistrust of the US.
Pyongyang has repeatedly appealed for UN and US sanctions to be lifted and has support from Russia and China.
But the Trump Administration has said that sanctions should stay in place until North Korea denuclearises.
President Donald Trump and North Korean leader Kim Jong-un met at a landmark summit in June, which saw Mr Kim pledge to work towards nuclear disarmament. Tangible progress since then though has been scant.
What did Ri say?
He said the US was insisting on a "denuclearisation first" policy that "increased the level of sanctions".
"The recent deadlock is because the US relies on coercive measures which are lethal to trust-building," Mr Ri told the assembly.
"Without any trust in the US, there will be no confidence in our national security and under such circumstances, there is no way we will unilaterally disarm ourselves first."
"The perception that sanctions can bring us on our knees is a pipe dream of the people who are ignorant about us," he added.
What has happened since Singapore?
An agreement reached there said North Korea would work towards denuclearisation but it did not include any timeline, details or mechanisms to verify the process.
In August President Trump accused North Korea's ally China of undermining progress on denuclearisation because of its trade dispute with the US.
However, earlier this month South Korean leader Moon Jae-in completed a high-profile, three-day visit to Pyongyang – the first by a Southern leader to the North's capital in a decade.
Mr Moon said that he had been "able to confirm Chairman Kim's firm commitment to complete denuclearisation" and that he had also expressed his wish to meet Mr Trump again soon.
Mr Kim has also promised to dismantle North Korea's main missile testing and launching site, and said he could decommission the main nuclear test site, if the US took some reciprocal action.
Mr Trump meanwhile has said he expects to have a second summit with Mr Kim in the "not too distant future".