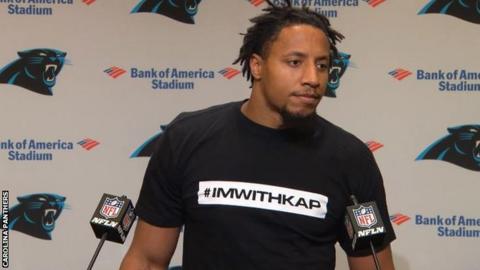 Eric Reid, who publicly supported Colin Kaepernick's protests against racial injustice and police brutality, says he will "keep speaking for my people" after being signed by the Carolina Panthers.
The 26-year-old, who knelt during the US national anthem with former San Francisco 49ers team-mate Kaepernick, is "considering other ways" to protest.
Reid also said a grievance case against the NFL – which alleges teams were colluding not to employ him – would continue.
Kaepernick, who filed a similar case, has not played since the 2016 season.
"Nothing will change unless you talk about it," said Reid, who wore a t-shirt with "#IMWITHKAP" at his unveiling on Monday. "So we're going to talk about it.
"We're going to continue to hold America to the standard it says on paper, that we're all created equal, because it's not that way right now.
"Next year will be 2019. It will mark 400 years since the first slaves touched the soil in this country. That's 400 years of systemic oppression. So this has been happening since my people have gotten here. So I just felt the need to say something about it."
He continued: "There's always opposition when you speak on topics like I'm speaking on. But I'm a black man in America. I grew up black in America. You can't tell me that what I've experienced and what I've seen is not true.
"Like I said, I will keep speaking for my people."
The safety was a free agent after being released by the 49ers earlier this year and was signed by the Panthers on Thursday on a one-year deal, with head coach Ron Rivera saying it was a "football decision".
Reid said he also had an offer from the 49ers, but the Panthers supplied a "better offer".
Kaepernick first protested by sitting during the national anthem in August 2016, before opting to kneel instead.
Other players followed suit, leading to criticism from President Donald Trump.
Players who refused to stand during The Star-Spangled Banner have said the protests were against police brutality of African Americans and racial inequality.
In March, Reid had said he would take a "different approach" to protesting during the anthem.
"I said that I would be considering other ways, and I'm still considering," he said on Monday.
Reid could make his debut against the New York Giants on Sunday and when asked if the Panthers had asked about his protest plans, he replied: "Not before I signed, but I've talked to a couple people about it.
"As I said, I'm still evaluating the scope of our country and I'll make that decision later."