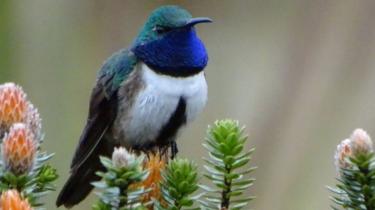 Image caption The male of the species has a dark blue neck and a white breast with a black stripe
A new species of hummingbird has been spotted and identified in Ecuador by a multinational team of ornithologists.
The bird has been named Oreotrochilus cyanolaemus, or blue-throated hillstar, for its deep blue neck and is about 11cm (4in) long.
Ecuador, which is rich in biodiversity, is home to 132 hummingbird species out of the more than 300 in the world.
Ornithologists say there are only about 300 blue-throated hillstars and that the species is in danger of extinction.
Francisco Sornoza is the ornithologist who led the team of researchers from Ecuador, Venezuela, Denmark and Sweden which made the discovery.