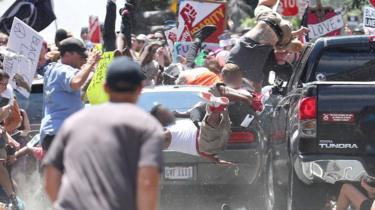 Four men have been arrested and charged with inciting riots at last year's deadly Unite the Right rally in Charlottesville, Virginia.
Benjamin Daley, Michael Miselis, Thomas Gillen and Cole White are part of the southern California-based Rise Above Movement, described by prosecutors as a white supremacist group.
The four travelled to the town to "commit violent acts in furtherance of a riot", the criminal complaint said.
The trial could start by year's end.
All four face up to a maximum of 10 years in prison if found guilty, according to authorities.
The complaint said the men had previously attended rallies in Berkeley and Huntington Beach, where they are said to have attacked protesters.
Authorities identified them through footage of violence against counter-demonstrators.
US attorney Thomas Cullen said at a news conference the men were arrested in California and transported to Charlottesville.
A joint effort by PBS television's Frontline programme and the ProPublica journalism group provided information helpful to the investigation, he said.
The four men are being charged under federal laws on rioting, rather than hate crimes – although Mr Cullen said there could be further charges.
Mr Cullen also said the men's own "extensive" social media use showed their actions at the rally, as well as in California beforehand.
One person died and 19 others were injured in August 2017 when a car rammed a crowd of people opposing the far-right rally in Charlottesville.
James Alex Fields Jr is accused of driving the vehicle, and faces federal hate crimes.
The Unite the Right march was called to protest against plans to remove a statue of a general who had fought for the pro-slavery Confederacy during the US Civil War.
President Donald Trump faced bipartisan outrage when he blamed "both sides" for the violence.