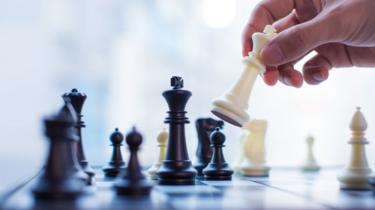 The World Chess Federation, (Fide), will elect a new leader on Wednesday, after a tense election campaign.
Three would-be kings are battling it out to become the next head of chess's world governing body.
It's been a game of intense strategy and calculated moves, marred by accusations of corruption and political meddling.
The winner will be decided at a ceremony in Batumi, Georgia, at 11:00 local time (07:00 GMT).
The players
The race is a three-way contest in which 185 Fide national delegates will decide the winner at the international congress in Georgia.
Georgios Makropoulos is the Greek current deputy president of Fide. But he has a problem – how to distance himself from former president Kirsan Ilyumzhinov, who he served under.
Mr Ilyumzhinov has been sanctioned by the US for allegedly facilitating transactions on behalf of the Syrian government, though he denies any wrongdoing.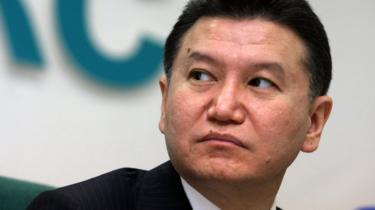 England's Nigel Short is best known for an unsuccessful challenge against Russia's world chess champion Garry Kasparov in 1993.
He has vowed to stamp out corruption and is a long-time critic of Fide leadership. But in 2015, he angered women chess players when he suggested women were not suited to the game.
Arkady Dvorkovich has both political and chess credentials. Until May 2018, he served as Russian deputy prime minister and is also a member of the Supervisory Board of the Russian Chess Federation. More recently, he was one of the chief organisers of the Fifa World Cup.
Mr Makropoulos and Mr Dvorkovich are the front-runners in what's likely to be a very close race.
The game plans
The Times newspaper reports that Russia has been manoeuvring behind the scenes to win votes for Mr Dvorkovich. Russia dismisses the claims as "lies and inconsistencies", accusing Mr Makropolous of being behind them.
In a BBC interview in September, Mr Dvorkovich said the Kremlin had "not been provided with any evidence" that two Russian agents had carried out the poisonings of Sergei and Yulia Skripal in southern England. The English Chess Federation felt that was a wrong move.
It released a statement backing Mr Makropoulos, saying Mr Short's campaign had "little traction".
Mr Short said the process had been "rigged", but then announced his support for Mr Dvorkovich, arguing his views on the Skripals had nothing to do with his ability to root out corruption in chess.
Mr Short, says the Financial Times, might be playing a long game. He's not likely to secure enough votes this time round, but could be running to boost his profile before the next election in 2022.
The next moves
Neither candidate is expected to secure enough votes to be declared the winner in the first round, so there is likely to be a second before a new leader is elected, says Peter Doggers of Chess.com.
The new president of Fide will get to decide who stages tournaments and how money is spent. But whoever wins, they're unlikely to be as colourful as Mr Ilyumzhinov, who once claimed on television to have met aliens on board a spaceship.
In addition to his alleged dealings with the Syrian government, he was president of the Republic of Kalmykia, a small Buddhist region of Russia which lies on the shores of the Caspian Sea, for 17 years.
A chequered past, you might say.