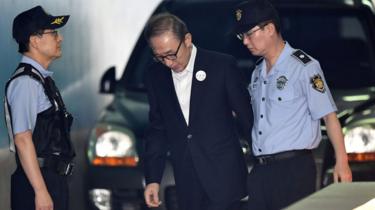 Former South Korean president Lee Myung-bak has been jailed for 15 years for corruption.
Mr Lee was sentenced in a Seoul court on Friday on charges of bribery, embezzlement and abuse of power, and ordered to pay a 13 billion won ($11.5m; £8.8m) fine.
The former president claims the charges are politically motivated.
He becomes the fourth South Korean former leader to be jailed, following his successor's imprisonment in April.