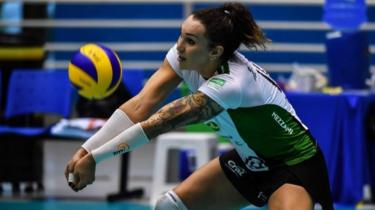 At a women's volleyball game on a Monday night in São Paulo, the stands are packed and those in attendance are decidedly rooting for the away team.
A large portion of the audience has come to see one of the away team's players in particular, Tifanny Abreu, the first transgender woman to play in Brazil's premier female volleyball league.
She may also become Brazil's first transgender lawmaker in its national Congress.
Under the campaign slogan "Why not?", she is running for the lower house in the general election on 7 October, defying those who think that a transgender woman cannot make it into the highest legislative body.
"Tifanny you're my hero in life and in sports!" a teenage boy says as she leaned over the barrier and got cheek-to-cheek for a selfie.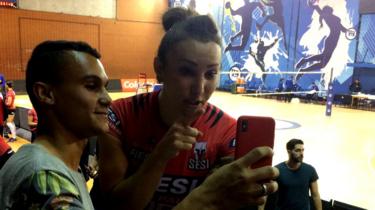 Ms Abreu says that she has gone through some "very tough moments" and suffered a lot of prejudice.
"I don't want my nieces and nephews, or any young people in Brazil, to go through what I went through," she says of her motivation to run for Congress.
"People like me need to occupy spaces in national politics in order to govern in LGBT people's interests and also to reverse the stigma about trans people."
André Luiz Santos, a student from São Paulo, has come to see Ms Abreu play.
"As a homosexual myself, Tifanny represents my causes, like criminalising homophobia. I never imagined I'd be able to vote for a transgender candidate," he says.
Surprise choice
While the spotlight has been on Brazil's highly contested presidential race, Ms Abreu is one of 54 transgender candidates to run for state legislatures and the national Congress. That is a tenfold increase compared to the 2014 election.
But Ms Abreu surprised many by announcing that she would run for a traditionally conservative party, the governing Brazilian Democratic Movement Party (MDB).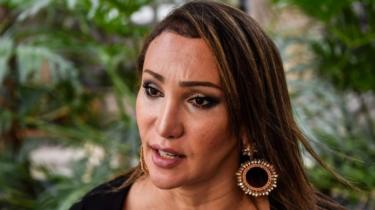 The party may be in power but President Michel Temer is not popular. His latest approval rating was just 2% and his party has been hit by corruption scandals.
The president's decision to scrap the ministry of women, racial equality, youth and human rights just two months into his time in office also did not endear him to minorities.
Ms Abreu was recruited by local party leader Renato Purini. "We asked Tifanny to run for us precisely because we're trying to renew the party – she's a new name, she's progressive," he says.
"Tifanny is a more modern reflection of Brazilian society today. We're trying to get away from the old stereotype of the party," he explains.
Ms Abreu says she thinks she can make more of a difference inside a large conservative party like the MDB, which currently holds the most seats in Congress.
"The MDB may be a party that's had a lot of problems, but President Temer is the old MDB," she argues.
"I believe more in people than in parties. We need to have LGBT representatives inside all the major parties, not just one leftist party fighting alone for the LGBT population."
New challenges
Ms Abreu was born into a poor family in Brazil's interior. She started playing volleyball at 17 and joined Brazil's professional men's league. She continued to play in professional leagues across Europe, but in 2012 she decided to transition to become a woman.
She thought she would never play volleyball again but in early 2017, she was cleared by the Brazilian Volleyball Federation to play professionally in Brazil's women's league and was signed to Sesi Bauru, 300km (185 miles) from São Paulo.
Ms Abreu quickly became a star player but her case also stirred controversy in the debate about transgender athletes.
"I respect her and her story," says Tandara Caixeta, a player on Brazil's Olympic volleyball team.
"But I don't agree with her participating in the female Superliga. It's a very sensitive issue and it's not homophobia, it's physiological," she said after Tifanny had broken her record for most points scored in a single game (39).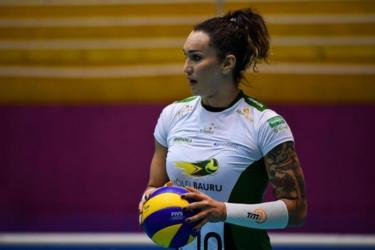 As Ms Abreu nears the end of her volleyball career due to her age – she is 34 – she believes politics is where she can continue to help people the most.
"I will vote carefully in Congress, considering all minorities. Many in Congress are there just to play the game. It's a mafia," she says.
'A light for equality'
If elected, her first goal is to pass a law that requires that there be a female police officer at every police station who is trained to deal with cases of violence against women and LGBT people.
Ms Abreu says victims of domestic violence and homophobia are often ashamed to report the crimes to male officers, and are frequently ridiculed or not believed.
If elected, Ms Abreu may encounter a decidedly right-wing legislative and executive branch.
The current frontrunner for president is far-right candidate Jair Bolsonaro, who has consistently voted against legislation that defends the LGBT population during his time as a congressman and who infamously said he would rather have a dead son than a gay son.
"He speaks of the LGBT population as if they weren't people," Ms Abreu says. "If he wins, we need to accept that, but he needs to understand that this is a country where everyone deserves the right to live in peace and be respected."
Twenty-year-old university student Stephanie de Castro is one of those planning to vote for her. "We need her in Congress, it's easy for a white, straight man like Bolsonaro to say all these prejudiced things, but Tifanny has actually lived [the prejudice]," she says.
"She's a light for equality, she shows us that we LGBT people have no limits."