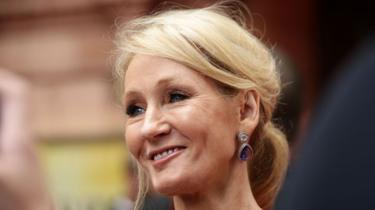 JK Rowling has said she once suspected the BBC of revealing the fact she was writing crime novels under the alias Robert Galbraith.
"I thought it had probably leaked from the BBC," the author said, adding she had feared someone at the corporation had "put two and two together".
Rowling's secret identity was actually revealed after a partner at a law firm told his wife's best friend.
The friend then revealed Rowling's identity to a Sunday Times journalist.
"I was a bit unlucky the way it happened," the Harry Potter creator told BBC Radio 2's Graham Norton.
"My ambition was to try and get three [novels] out without being unmasked."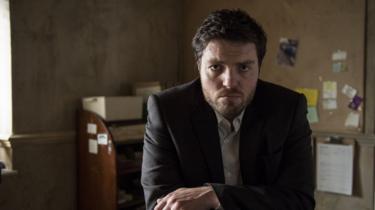 Rowling said she came to suspect the BBC had made the connection after her publisher was approached about adapting the first Robert Galbraith crime novel for television.
"The BBC actually approached Robert without knowing it was me, which put me in a real quandary," she explained.
"I had this bizarre meeting with my agent and my editor," she went on. "I said to them 'Well, what do we do? This is an amazing thing that they've contacted us to try and adapt it for TV, but I obviously can't take this meeting.'"
Rowling said it was "a bit of a shock" when she was outed in 2013.
"When it leaked initially, for about four horrible days actually, we didn't know how it had leaked because so few people knew the secret," she told Norton.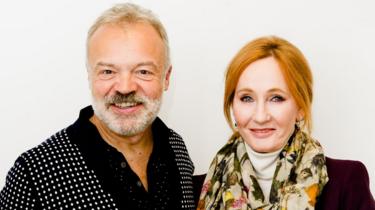 Rowling had already published one novel as Robert Galbraith, The Cuckoo's Calling, when it was revealed she was its author.
She has gone on to write three more novels about war veteran turned private investigator Cormoran Strike – The Silkworm, Career of Evil and Lethal White, which came out last month.
Rowling said she hopes to write as many as 10 Strike novels and already has ideas for the next two books.
She also revealed that the Strike of her imagination was now "a hybrid" between her original conception and actor Tom Burke, who plays the character in the BBC adaptations of the novels.