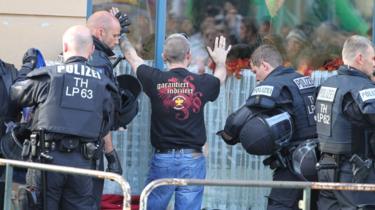 Eight police officers in an east German town were slightly injured on Saturday night after they were pelted with bottles at a far-right rock concert.
The concert, in the market place of Apolda, Thuringia, was halted after an hour because of the violence.
Around 700 neo-Nazis attended the concert, which had been dubbed "Rock Against the Overflow of Foreigners".
A counter-demonstration earlier in the day attracted a similar number of people.
An ecumenical church service in protest at the concert was also held on Saturday, attended by Thuringia's first minister, minister of the interior and minister of the environment.
The concert was legal, but the violence began as people began arriving for the concert. As well as bottles being thrown, police used pepper spray on at least one demonstrator who tried to jump the barrier checks.
State police later tweeted that eight officers were slightly injured but had not needed hospital treatment.
The concert had been moved to Apolda at the last minute after it was banned from being held as planned in a nearby city.
Support for the far right is on the rise in eastern Germany. The arrival of more than one million refugees and asylum seekers since 2015 has divided the country.
About 23% of voters in Thuringia support the far-right, anti-immigration Alternative for Germany (AfD) party, according to a recent opinion poll commissioned by public broadcaster MDR.
The co-leader of the AfD in Thuringia, Björn Höcke, has condemned the Holocaust memorial in Berlin and is well-known for inflammatory marks on refugees and race.
Germany society has been deeply divided over the influx of more than one million migrants, mostly Muslims fleeing Middle East conflicts, after Chancellor Angela Merkel's decision in 2015 to let them in.
Since then, policy changes have led to a sharp fall in the number of people seeking asylum.