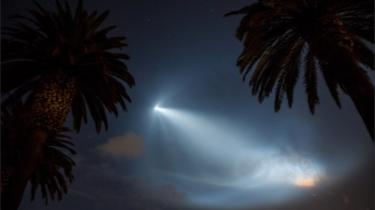 Elon Musk's SpaceX company has successfully launched a satellite into space from California – wowing social media users in the process.
The Falcon 9 rocket took Argentine satellite SAOCOM 1A into orbit from Vandenberg Air Force Base, on the coast northwest of Los Angeles.
Residents shared photos of the launch, which lit up the skies over the state.
The rocket's first – and reusable – stage landed successfully, marking the first West Coast landing for a booster.
Taking off at about 19:21 local time (02:21 GMT), the first stage of the rocket returned safely to the air base about eight minutes later.
Californians posted videos and photos of the skies after the successful take-off, including Los Angeles mayor Eric Garcetti.