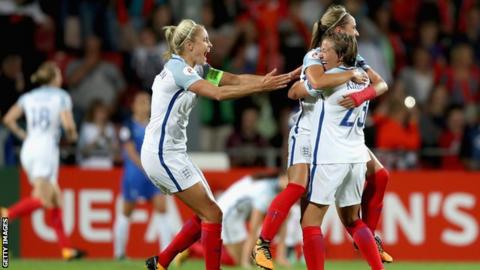 The profile of women's football continues to rise but success for England at next year's World Cup in France could have an even bigger impact.
TV deals, record crowds and increased participation were all benefits of England reaching the semi-finals at two major tournaments – the World Cup four years ago and the European Championship in 2017.
The Lionesses, who host Australia at Fulham's Craven Cottage on Tuesday, have continued to shine – securing qualification for next year's World Cup in France with a 3-0 victory over Wales in August.
That match attracted viewing figures of a peak 1.7m in the UK – an increase of more than 100,000 on their previous World Cup qualifier – and follows a trend of improving TV audiences.
Manager Phil Neville senses the growing enthusiasm, suggesting that interest in England women's football will "explode" with a good showing at the finals in France.
But when the World Cup kicks off on 7 June, the Football Association hopes more attendance records will be broken and viewing figures will be "smashed".
How interest grew in the Netherlands
Since England's semi-final defeat in the Netherlands two years ago, the participation of females aged 16 and above with FA affiliated teams has increased by 2%. In that time, more affiliated teams have been formed in the UK too.
Most notably, there has been a 6.1% increase in youth sides, with 218 teams formed.
Number of affiliated clubs in the UK
2016-17
2017-18
% change
(Figures taken on 5 January on a yearly basis)
Adult female
1,541
1,580
+2.5%
Youth female
3,600
3,818
+6.1%
Disability female
145
150
+3.5%
"It inspires girls to play. We have seen that through talking to the grassroots clubs," said Kelly Simmons, the director of the women's professional game at the FA.
"In mini soccer teams, we know there are 1,400 girls-only teams. That was a big growth after the Euros.
"The World Cup will only help to promote women as role models and encourage girls to get out there and play. We will be using the tournament to signpost where these girls can reach.
"It will help to continue to break down perceptions and barriers that have been in place over the years, that girls can't play or there aren't the opportunities."
Attendances and broadcast figures have also shot up noticeably in recent months.
The Lionesses' semi-final defeat in 2017 was the most viewed women's game ever on UK television with an average of 3.4m and a peak of 4m on Channel 4.
England vice-captain Jordan Nobbs told BBC Sport: "You don't really realise until you come home how big an impact [success] can have.
"We know how important it is playing in a major tournament and how important it is for women's football. We're huge role models for the women's game and hopefully we can go out there and do everyone proud."
In contrast, in England's final home warm-up match for the 2015 World Cup in Canada, only 5,665 attended their 2-1 victory over China in Manchester.
"We have seen a big increase in attendances and growing TV audiences," added Simmons. "They are growing match-on-match. It is a big increase from where we were at a couple of years ago.
"If you go back to the World Cup in Canada, there were a couple of hundred people watching at home at midnight. Then as England progressed through the tournament, that interest and coverage was building and building."
'We can smash the audience figures'
Simmons says there is a "real opportunity" to showcase the women's game at next year's tournament – and build on the growing popularity that was evident during their qualifiers.
In November, 9,643 people came to watch England's 5-0 thumping of Kazakhstan in Colchester. It meant 95% of the stadium's capacity was filled.
Earlier that month, 10,226 watched the Lionesses' 4-0 win over Bosnia – 90% of the stadium's capacity – a figure which doubled for the game against Wales in April.
And almost 7,000 were in attendance in Kazakhstan as England recorded a 6-0 win to round off their qualifying campaign.But Simmons doesn't want it to stop there.
She said: "We have a real opportunity with the World Cup being in France next year and with the game continuing to grow and develop. Hopefully if England do well then the whole country can get behind the Lionesses.
"We want to be encouraging as many fans at home, who aren't travelling to France, to watch the games. It's hard to get a sense of what the audience numbers will be.
"I expect we will smash anything we have seen previously in terms of audience figures. I don't see why we can't be expecting it to be several million. The more we progress, the more excitement and profile can be built around it."
England's chance 'to set an example'
England, who conceded just one goal in eight qualifying matches to finish unbeaten and top of their group, are ranked fourth in the world behind France, Germany and the USA.
BBC Women's Footballer of the Year Lucy Bronze believes they have a "really good chance of being successful" and can "set an example" to young girls hoping to break into the sport.
"Little girls watching teams being successful want to go and do that too," Bronze told BBC Sport.
"When people got behind the men's success at the World Cup this summer, it was great. It is getting more people into the sport – whether it's girls or boys, old or young.
"It is good for the country, good for the sport and good for their health."
It's not just England games that people want to watch and success for Bronze and her team-mates could help increase interest in the entire domestic game – as was demonstrated after Euro 2017.
The 2018 FA Women's Cup final, in which Chelsea beat Arsenal, had a record attendance of 45,423 – a 29% increase from the year before.
In addition, the average attendances for the first Sunday of this year's Women's Super League were up 78% on the average of the first half of the 2015 season.
And the attendance of 4,835 watching the new Manchester United Women's first match in the Continental Tyres Cup, against Reading on 25 August, surpassed the WSL league record of 4,096, set when Manchester City beat Chelsea in a September 2016 title decider.
"These pinnacle moments in the sport where a lot of the public are watching it and players are in profile – that can shift perceptions," said Simmons.
"You need those special moments to allow us to really accelerate the game and break down those barriers."