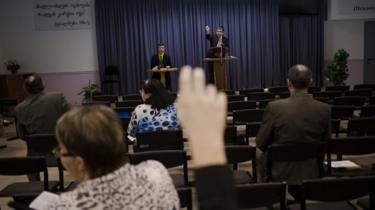 Five members of the Jehovah's Witness religious group have been detained in Russia on weapons and extremism charges, investigators say.
The Christian denomination has faced scrutiny in Russia in recent years and was forcibly disbanded in 2017.
Human rights groups have accused the government of a "sweeping" campaign of persecution against members.
Last year they were added to a list of extremist organisations, effectively criminalising their religious activity.
The justice ministry argued the group distributed pamphlets which incited hatred of other groups, and the country's Supreme Court then upheld the ban against it.
A local investigations office said on Wednesday that five residents of the Kirov region, north-east of Moscow, had been detained.
They are accused of collecting more than R500,000 ($7,500) of funding and organising religious events.
Investigators say a "large quantity of extremist literature" was found during their searches, as well as two hand grenades and a landmine.
"They had been conducting meetings and called on others to join their organisation," Yevgenia Vorozhtsova, a spokeswoman for regional investigators told AFP news agency.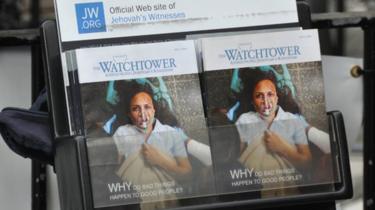 Yaroslav Sivulskiy, a member of the European Association of Jehovah's Christian Witnesses, told the news agency that this is the first time members of the group had been accused of having weapons.
An estimated eight million people worldwide are part of the denomination, which is best known for going door-to-door looking for new converts.
Originally founded in the US in the 19th Century, it said in 2017 that it had 395 local congregationss in Russia with about 175,000 members.
Dozens have been reportedly detained in recent months, and Finland has said hundreds of Jehovah's Witnesses have applied for asylum there since the crackdown intensified.
The majority of Russia's religious population identify as Russian Orthodox Christian.
The US Commission on International Religious Freedom designated Russia one of the world's worst for religious freedom in its 2018 report.